That's how I approached the Influenster Mystery #VoxBox that arrived in my mailbox.
This tiny box contained 3 mystery samples for me to try out and see if I could guess the brand. I kinda like being a bit of a guinea pig so I was game, even though I was pretty certain these weren't going to be all natural, organic hair care products.
From the second I opened the bottle marked Shampoo I knew there was something familiar about it. The fruity floral scent had been imprinted on my brain years earlier. I knew instantly it was a Fructis product...or at least I was pretty sure it was. But no matter, I went about my experiment and tested out the Shampoo, Conditioner and Split-End serum. I noticed a change from the very first wash. My hair was super shiny and ridiculously soft. Even though I was overdue for a trip to the hairdresser's, the products brightened up my hair and made it look healthier.
When I the mystery box was revealed I wasn't terribly surprised. I knew it was a Garnier product, but I had never heard of the Damage Eraser line before.
So at the end of the experiment, I can say that the Garnier Fructis Damage Eraser certainly improved the look and feel of my locks. Would it be something I would use in my house? Unfortunately, not. And that's only for one reason...it's not natural. I made the switch a long time ago to using natural, toxin-free products on my body and the Garnier Fructis Damage Eraser just doesn't fit the bill.
But I tell you what... if L'Oreal comes out with an all-natural product line....I'd be all over it!
Cheers,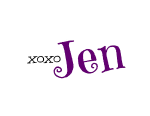 Disclaimer: I received the #mysterybrand and #damageraser Vox Box's from Influenster, on behalf of L'Oreal Canada, for the purposes of this review.